One of NSW's first heritage Blue Plaques has been unveiled, honouring the work of Father Thomas Dunlea, who founded Boys' Town at Engadine and organisations to help alcoholics and people recovering from mental ill-health.
The Blue Plaque has been fixed to the wall of the Dunlea Centre at Engadine, which evolved from the first permanent shelter for homeless boys, which was established in 1940.
Fr Dunlea was among the first 21 NSW Blue Plaques announced in early 2022. They are modelled on the London program, dating back to 1866, which recognise noteworthy people and events.
Boys' Town, which Fr Dunlea established while Parish Priest of Sutherland, was not his only legacy.
He established alcoholics anonymous in Australia, and remained with the group until his death.
Fr Dunlea also established the Recovery Group for people recovering from mental ill-health, which evolved into the organisation GROW.
Many children at Boys' Town were indigenous, and biographer John Sweeney recorded, "Fr Tom was an energetic crusader for Aboriginal rights before it became fashionable".
Fr Dunlea also provided financial support for the work of the Kirinari hostel for Aboriginal students in Sylvania.
Fr Dunlea was honoured with an Order of the British Empire (OBE) in 1965 and, later, the Jewish Cross of Honour and the Papal Cross of Honour.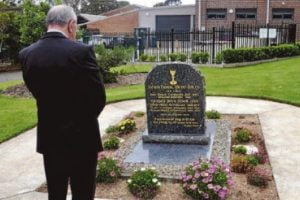 He died in 1970 which Parish Priest of Hurstville and his funeral was one of the largest seen at St Mary's Cathedral.
Cardinal Gilroy said, "No priest in Sydney has done more than Fr Thomas Dunlea to make the Church loved".
Speaking at the Blue Plaque unveiling, Fr Frank Bertagnolli drew on the biographies A Welcome on the Mat by John Sweeney and Priest of the Highway by Dorothy Coleman.
Fr Bertagnolli said former Governor General, Sir William Dean, stated "Fr Dunlea was, by any standard, an extraordinary human being".
"Few, if any, Australians could claim to have done more to help the most vulnerable Australians", Sir William said.
Fr Bertagnolli said Fr Dunlea had many setbacks, including the collapse of a residential facility or alcoholics.
A range of factors contributed to to Fr Dunlea suffering a physical and mental break down and becoming dependant on alcohol, he said.
After his recovery, Fr Dunlea was made full time chaplain at Matthew Talbot Hostel for homeless men in the city where "his personality – full of compassion and sympathy for the marginalised – transformed the place, and the lives of many men".
Words by Murray Trembath. See the article on page 15 of The Leader here.
Learn more about the Dunlea Centre History.